---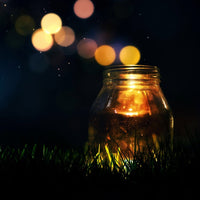 Lisa's Treasures Whipped Body Butter is a creamy luxurious whipped body butter giving your skin the care it needs! These natural butters and oils are known to moisturize the skin, repair skin damage caused by aging while strengthening the skin's elasticity, help even skin tone, while diminishing fine lines and wrinkles.
This perfect non-greasy all natural whipped body butter will nourish your skin & leave it feeling silky soft. It is made by whipping eight different butters and oils, arrowroot powder and essential and/or fragrance oils together to produce a creamy luxurious moisturizer that melts on contact with skin. It is deeply penetrating and hydrates the skin quickly without leaving a greasy residue. There is no colorant and only 100% pure essential oils are used. No Parabens, No Phthalates, No Preservatives, No Alcohol, and NOT tested on animals.
Ingredients: Shea Butter, Apricot Kernel Oil, Coconut Oil, Mango Butter, Avocado Oil, Kokum Butter, Jojoba Oil, Vitamin E, Arrowroot Powder, Essential and/or Fragrance Oil
Net Contents 4 oz. or 8 oz. Use daily and in combination with the Brighten & Bounce Back Face and Body Scrub or the Firm & Smooth Away Body Scrub for best results. Always test in a small area for allergic reactions. If any issues, discontinue use! Products made by Lisa's Treasures do not contain preservatives, as a result do not introduce water to the product. I provide wooden spoons to use to scoop out desired amount needed. Use within 6 mos. of purchase.
Now here's the trick about natural body butters. It's best to rub in a light layer of the body butter just after a hot shower while the pores of your skin are still open. Within minutes it will melt and soak into your skin. The result is soft and glowing skin! Remember that natural body butter is thick, and a small amount goes a LONG way!
If ordering during hot, summer months, I recommend having it shipped to an office or bring inside directly after receipt. Keep items in a cool place and out of direct sunlight, especially body butters and creams. If your products melt, they will lose their "Fluffiness". However you can put the products in the refrigerator to resolidify. Your product will still be usable, after doing so and will still have all the wonderful benefits from the natural butters and oils.
Other important information can be found in the FAQs page, please visit.