---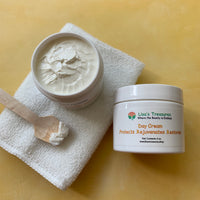 Lisa's Treasures luxurious day cream will give you the protection you need naturally, while rejuvenating and restoring your youthful skin. This perfect non-greasy all natural face cream will nourish your skin while leaving it silky soft. It is made by whipping ten different butters and oils, non-nano zinc oxide, beeswax, three different essential oils and arrowroot powder together to produce a creamy luxurious day cream that melts on contact with your skin. It is deeply penetrating and hydrates your skin quickly without leaving a greasy residue. I use non-nano zinc oxide at a 10% rate and other natural butters and oils that have natural SPF.  SPF is not cumulative, however mine should have a minimum SPF of 10 due to the 10% non-nano zinc oxide but due to the other natural ingredients it is probably higher (Not FDA tested). The natural butters, oils and  essential oils I use are known to moisturize the skin, help repair skin tissue damage caused by aging while strengthening the skin's elasticity, help even out skin tone, maintain a healthy complexion and diminish fine lines and wrinkles. There is no colorant and only 100% pure essential oils are used. No Parabens, No Preservatives, No Alcohol, and NOT tested on animals.
Ingredients: Shea Butter, Coconut Oil, Apricot Kernel Oil, Argon Oil, Mango Butter, Non-Nano Zinc Oxide, Beeswax, Jojoba Oil, Vitamin E, Arrowroot Powder, Lavender Essential Oil, Carrot Seed Oil, Red Raspberry Seed Oil, Ylang Ylang, and Geranium Essential Oil
Net Contents 2 oz. Use in the morning and in combination with the Facial Detox Soap, Intensive Eye Cream and Night Cream for best results. Always test in a small area for allergic reactions. If any issues, discontinue use! Use within 6 mos. of purchase.
Now here's the trick about natural face creams. Use a small amount and apply on several spots around your face, within minutes it will melt.  Gently rub into your face as it soaks into your skin. The result is soft and glowing skin! Remember that natural face creams are thick, and a small amount goes a LONG way!
More details regarding the ingredients:
Shea butter is considered a super food for the skin. It is one of the best anti-aging and moisturizing agents for the skin. It strengthens your skin by stimulating the production of collagen, which is a structural protein that keeps your skin looking youthful. Vitamins A and E found in this butter keep the skin supple, more alive, nourished and radiant. If you have wrinkles, fine lines and crows feet or if your skin is dry, damaged or devitalized, shea butter will make these problems vanish and bring your skin back to life. Shea butter penetrates the skin easily, without clogging the pores, and has been used for the treatment of scars, eczema, blemishes, skin discolorations, stretch marks and dark spots. Shea butter acts as a natural sunscreen by providing protection against the ultraviolet radiations of the sun.
Coconut oil exfoliates the skin, by removing dead skin cells and at the same time naturally detoxifies it, giving it a smooth radiant appearance. By penetrating deeply into the skin layer, coconut oil effectively moisturizes and strengthens the underlying tissue, increasing its turnover of collagen, thus helping the skin renew and heal itself.
Apricot kernel oil exfoliates the skin by removing dead skin cells as well as unclogging pores. Thus, it keeps the skin smooth and radiant by stimulating fresh cell growth. Light, gentle, mild and non-irritating, it is also a light moisturizer for any skin type. The high Gamma Linoleic Acid (GLA) content enables your skin to maintain its moisture balance and helps tone and firm up your skin. The Vitamin A and E assist to slow down the signs of aging.
Argon oil is rich in vitamins A and E and it also packed with antioxidants, omego-6 fatty acids and linoleic acid. Applied topically it eases inflammation, moisturizes skin and boosts cell production.  Argon oil exfoliates your skin, helps fight acne and may reduce the appearance of stretch marks.
Mango butter has a naturally high concentration of vitamin A that encourages healthy cell production and turnover. It can help keep your skin firmer while also reducing the appearance of fine lines and wrinkles by stimulating skin cells that are important for keeping skin toned and tight. It contains vitamin C that boosts collagen production in the skin. Collagen is a structural protein that keeps our skin looking smooth, soft and youthful. It's deeply moisturizing without being greasy, helping to keep your skin nice and smooth. Also, with its high linoleic and oleic acid content, mango butter is also very good at maintaining the skin's elasticity and flexibility.
Non-nano zinc oxide is the best broad spectrum UVA and UVB reflector and has soothing and astringent properties. It reflects the harmful rays away from the skin. At first it appears white but melts nicely into your skin. It is important that non-nano zinc oxide is used because the particle size will not be absorbed into the bloodstream. I used non-nano zinc oxide pharmaceutical grade, the purest available.
Beeswax is a hardening agent and protects the skin.
Kokum butter is ultra moisturizing and melts on contact with the skin. It is non-comedogenic, meaning it won't clog your pores, which is very useful for people who are prone to breakouts. Kokum butter is considered an astringent butter and helps to constrict tissues and tighten pores. It promotes skin elasticity and regenerate skin cells.
Jojoba oil is packed with almost all the vitamins and minerals essentially needed for healthy hair and skin, namely, vitamin E, B-complex, copper, zinc, selenium, iodine, and chromium. Jojoba oil is actually not an oil, but a liquid wax and closely resembles human sebum – an oily substance naturally produced by the oil glands below the skin surface, so its uses and benefits to the skin and hair are high. It is a perfect choice for those who want to use natural products for their skin, hair and face care. Jojoba oil is full of various organic and mineral elements that can provide you with naturally groomed and glowing skin. It aids to combat facial lines, skin scarring and fatty tissues. It sooths irritated skin and promotes natural production of collagen. It protects from sun and prevents premature aging symptoms, such as fine lines and wrinkles. It softens dry and irritating spots and restores the skin to a balanced condition. It has anti-inflammatory properties that help in reducing inflammation caused by skin dryness.  Jojoba oil not only firms-up and keeps your skin hydrated but is also useful in lessening the appearance of skin wrinkles and fine lines. The powerful antioxidants contained in the jojoba oil help in regenerating the skin cells.
Vitamin E is essential for healthy skin growth, repair of wear & tear to the skin, keeping skin smooth and protecting against cracking. It is effective in getting rid of free radicals that are responsible for aging your skin. Above all, it prevents premature aging and wrinkling of the skin, since it has good antioxidant properties.
Arrowroot powder is added to body butters and creams to help reduce greasiness.
Lavender essential oil is an antibacterial. It can penetrate pores to kill bacteria, which aids in preventing acne. It is an anti-inflammatory, which can help to reduce redness and blotching the skin, helping to restore your bright, natural skin tone. When used regularly, this oil may help to reduce dark age spots and other types of skin discolorations. Lavender oil is teeming with antioxidants, it can help protect your skin from damaging free radicals, which contribute to fine lines and wrinkles, as well as other signs of aging skin.
Carrot seed oil is loaded with antioxidants which have amazing skin renewal properties and is used to get rid of age spots and wrinkles.  It is rich in carotol which protects your skin from free radical damage.  It forms a protective layer to help in skin protection.  Some studies have shown that Carrot seed oil has natural  SPF of 38 – 40. It stimulates the growth of new cells to improve complexion and it tones up tissues and muscles increasing the firmness and elasticity of your skin. 
Red raspberry seed oil it loaded with antioxidants which offer moisturizing, anti-inflammatory and antioxidant benefits for your skin.  It offers anti-aging benefits of improving skin elasticity, suppleness and flexibility, while softening and smoothing the look of wrinkles, fine lines and sagging skin.  It forms a barrier to prevent moisture loss and protects your skin from damaging elements. Some studies have shown that red raspberry seed oil has natural SPF of 28 – 50.
Ylang ylang essential oil can do wonders for your skin's health and appearance. It can help preserve the skin's "youthful glow" by rejuvenating areas of the skin that are looking tired and old and help with premature signs of aging.
Geranium essential oil promotes radiant, youthful skin because it is an astringent. It induces contractions and improves skin tone. It has the power to minimize the appearance of wrinkles and can help slow down the effects of aging. It helps tighten and contract muscles. As a result, it can help skin from sagging. It is an anti-inflammatory and moisturizing properties that aid in the repair of eczema and psoriasis.
Products made by Lisa's Treasures do not contain preservatives, as a result do not introduce water to the product. I provide wooden spoons to use to scoop out desired amount needed. It is best to use within 12 months of opening.
If ordering during hot, summer months, I recommend having it shipped to office or bring inside directly after receipt. Keep items in a cool place and out of direct sunlight, especially body butters and creams. If your products melt, they will lose their 'Fluffiness". However you can put the products in the refrigerator to resolidify. Your product will still be usable, after doing so and will still have all the wonderful benefits from the natural butters and oils.
Other important information can be found in the FAQs page, please visit.